The following specifications are based on the assumption that the track is running at the front of the Club table.
Club members are responsible for supplying the track for the two main lines running across their Club tables.
The first track is four studs in from the edge of the Club table/base plate.
The second track is eight studs in from the edge of the first set of tracks, or four studs in from the other edge of the base plate.
Track ballasting is up to each individual Club member but should have 2 plates between the track and the base plate.

Many club members follow the PennLUG/L-gauge.org standards.
Tie color varies among club members with Reddish Brown and Black the 2 most common colors. If LEGO would produce the 1 x 1 Tile in Dark Brown (1 x 4 Tile in Dark Brown does exist), several members would use that. It has also been requested that ties start from the right side of the base plate (when looking at the track from outside the display).
Another variation of the ballasting standard is to make the bottom plate color match the base plate and not Dark Bluish Grey(bley)/Dark Stone Grey. This works very well on curves where the bottom layer is tiles and has an aliasing effect. By having the bottom layer in the base plate color it minimizes the aliasing effect.
Ballast color also varies among club members but Dark Bluish Gray is by and far the most popular choice. Some members will augment the color with Light Bluish Gray and Black 1 x 1 Plates to give some rock variations.
If a club member chooses not to use the 2 plate standard between the base plate and the track, it is up to them to make sure their layout will be on table boundaries. This will allow the member to adjust the table height so the top of the track will be level between their display and that of their neighbors.

There will be a one stud clearance on either side of the track on straight track sections and a four stud clearance on either side of the track on corners. This is measured from the edge of the track tie, or cross member on anything higher than the track itself.
Structures around, or over the tracks must conform to track clearances as specified above as well as be 15 bricks above the base of the track. The base of the track is measured from the same plate level that the track is connected to.
Special attention must be paid to arched openings. No part of an arch opening should extend into the specifications stated above.
Double Straight Standard: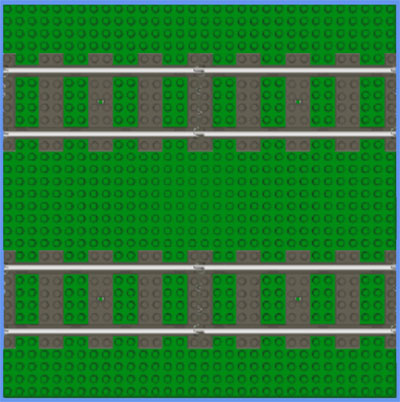 R120 / R104 Curve Standard:
Curves are to be R120 (outer) and R104 (inner) curves supplied from any vendor. LEGO made curves are R40 and are too limiting for the club. The R120 and R104 curves currently take up a 40″ square table space.